You play as Pigment, a black and white pixel on a quest to become a color pixel by collecting colored crystal diodes. You race through a forever-scrolling grayscale obstacle course, changing between the RGB colors you collect to survive. For example, changing to a blue pixel will allow you to slow down time and move with better reflexes. Traverse as much of the world as possible, while absorbing as much color as you can. Use absorbed colors to purchase upgrades in order to help Pigment achieve his colorful form.
Goal
Try to run as far as you can, using your powers and upgrades from the shop to help you along the way.
Movement

Press the A and D keys to move left and right.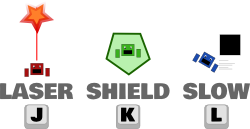 Press the J, K, and L keys to activate your powers.