Description
Red Blue Games is an idie game studio based out of Durham, North Carolina founded by twin brothers Edward and Lucas Rowe.
History
History
After a lifetime of playing games together, Edward and Lucas decided it was time to make some games together, forming Red Blue Studios in the fall of 2013. Edward spent his early career at Vicious Cycle Software as a gameplay programmer, where he helped ship over eight games spanning many genres. Lucas spent several years as a Quality Engineer for Peoplefluent and then Lulu.com before leaving to found Red Blue Games. The studio is named after the colors the twins were dressed in so their parents wouldn't mix them up. Edward was in red, Lucas in blue.
Projects
---
Videos
Mini Fish: Downstream Dash Gameplay Trailer YouTube
Mini Nuts: Memory Challenge Gameplay Trailer YouTube
---
Images
There are far more images available for Red Blue Games, LLC, but these are the ones we felt would be most useful to you. If you have specific requests, please do contact us!
---
Logo & Icon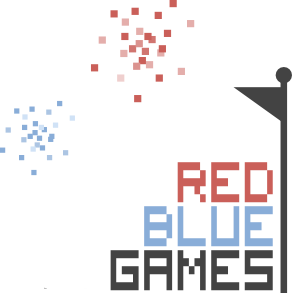 ---
Awards & Recognition
"Honorable Mention - Github Game Off II" - github.com, January 6, 2014
---
Additional Links
Red Blue Games Company Page
Additional company information, including staff information. redbluegames.com.
---
---
presskit() by Rami Ismail (Vlambeer) - also thanks to these fine folks